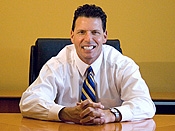 Paul Samson
President & Founder
---
Mr. Samson founded The Franchise Edge (TFE) in 2005 because of a need that he saw in the market for an affordable, client focused franchise consulting service. His experience in franchising began as President and Founder of Lenny & Vinny's Management, Inc., a corporately owned and managed pizza chain that he operated for 14 years and grew to 14 units before deciding to franchise. Mr. Samson was also the Founder of Head West Enterprises, LLC, which grew the Westshore Pizza chain from 16 stores to 52 stores in 3 years, with an additional 90 units committed and combined sales of over $27,000,000 prior to the sale and transition of the marks.
Under the guidance of Mr. Samson, TFE educates its clients on the challenges new franchisors face and creates the strategies necessary to develop a successful franchise system. Mr. Samson's expertise includes vendor sourcing and pricing, sales and marketing and business modeling for franchisors.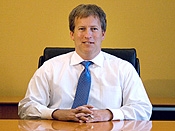 Scott Anderson
Senior Partner
Mr. Anderson has been a Partner in TFE since May 2006 and works closely with prospects and clients in evaluating the viability of franchising and then developing the needed components for establishing and launching their franchise. Mr. Anderson has over twenty years of entrepreneurial experience, during which he founded Automated Artist, a multi-unit, robotic, t-shirt company that operated in the Walt Disney World and Busch Gardens theme parks as well as in regional malls for over 17 years. Mr. Anderson's stores were recognized for outperforming Walt Disney World's retail shops on a sales per square foot and a profit per square foot basis by 2.5 times.
The top grossing location generated sales per square foot of over $8,000 at its peak. Having operated a corporate model with six locations, Mr. Anderson understands the demands of the corporate model and the benefits of the franchise model. He also gained significant experience in retail, technology, store design, branding, and operations. Having started and managed a number of businesses, Mr. Anderson understands start-up strategies as well as systems evaluation and implementation to take businesses to a new level.
As a partner with The Franchise Edge, Mr. Anderson oversees all client projects and lends his expertise with competitor analysis, financial modeling, business modeling and system's enhancements. In addition to this, he works with clients to develop their franchise marketing and franchise sales programs.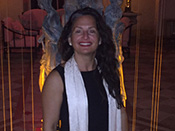 Barbara Garcia
Head of Legal Affairs
---
Barbara Garcia, J.D., L.L.M., is our Director of our Legal Department and Human Resource Development.
Ms. Garcia works with one of the top franchise attorneys in the country and is dedicated exclusively to franchising and to the needs of his franchisor clients. Representing franchisors all over the country exclusively. Ms. Garcia was the first corporate employee for one of the largest hamburger franchisor's, BurgerFi International, headquarters in North Palm Beach, Florida. Barbara was Director of Legal Department and the Director of the Human Resource Department.
Ms. Garcia has more than 15 years of legal experience which include Franchise law, international Business law, corporate law, and Real Estate transactions. Ms. Garcia is currently pursuing a professional certification through The Certified Franchise Executive Program and an SPHR Certification.

Dr. Christine Balesteri
Senior Franchise Consultant
At The Franchise Edge, Dr. Balesteri is responsible for conducting in-depth on-site visits to the client's place of business to enhance and document operational systems including all procedures and guidelines which are essential to the smooth and efficient operation of the client's franchise business.
Dr. Balesteri brings outstanding real-world experience to her consulting role at The Franchise Edge. Along with joining the firm, she currently operates as a partner in a high-volume franchise store in downtown Chicago. Prior to that, she was Director of School Community Partnerships for the City Colleges of Chicago. At that time, she also held the position of Department Chair of the Developmental Education Program.
Dr. Balesteri has a deep passion for helping entrepreneurs fulfill their visions and is motivated by client satisfaction. She offers a hands-on proactive leadership approach to ensure a positive experience for entrepreneurs seeking to franchise and grow their business.
Dr. Balesteri holds both a Master's and Doctoral Degree in Administrative and Organizational Leadership from the University of Illinois, Champaign, Urbana.

A. Michael "A.T." Toroyan
VP Strategic Development
AT has a broad experience level with all aspects of franchising including: Design & Construction, Real Estate Development, Managing & Operating Restaurant Groups and Legal background in the franchise space.
He has owned and operated franchises which gives him a unique insight and experience to helping new franchisors build a system that will support the growth of a new franchise system.